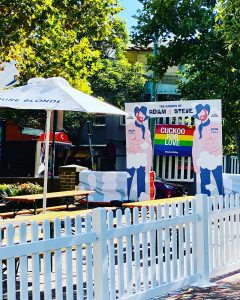 Our community in Surry Hills is full of colour at the moment for World Pride celebrations which started last week and continue for two weeks.  There is so much going on including talks, art and stalls to help us connect with the LGBTQI community. The Clock has created a cheeky "Garden of Adam and Steve" space (pictured) where people can connect and share a beverage outdoors.
Surry Hills has always been a safe space for the LGBTQI community and we want to continue to make it so.
Churches are increasingly becoming places that want to welcome this community. Paddington Uniting church has a sign currently at the front of their building saying "Happy World Pride. This church celebrates you as altogether beautiful"
Pitt St Uniting Church has a marvellous photo exhibition currently showing.
"This exhibition is also a pilot campaign project celebrating the resilience and flourishing of LGBTIQA+ people and communities of faith and spirituality, and their allies, who despite prejudice, persecution, violence and discrimination are shining their light for a better world."
Hopefully you get a chance to check out some of the activities in the inner-city and especially in Surry Hills!